The Galleries at the Liriodendron Mansion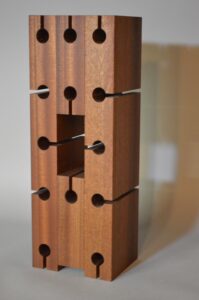 For the second time in our history, The Baltimore Sculpture Society will be showcasing their work at the Liriodendron. Twenty artists from the society will exhibit over twenty pieces of sculpture, both on the grounds and inside the mansion. This special anniversary exhibition will open on Sunday, May 14 from 11 am to 3 pm, and will be on view every Wednesday from 1 to 6 pm through June 28, as well as on Sunday, June 11 from 11 am to 3 pm. 
The exhibit will also be on view during all public-facing events. Private viewings may also be held by appointment. Pieces exhibited on the grounds are available for view daily from sunup to sundown except when we are closed for a private event.
Please note that, due to the historic nature of our venue, the 2nd Floor Gallery Space is not wheelchair accessible. We apologize for any inconvenience.
The Liriodendron mansion's 2nd floor houses exhibit space featuring artwork, educational exhibits, and archival collections.
Exhibits are open to the public for viewing during the mansion's Open House hours: 
Wednesdays from 1 to 6 pm and Second Sundays from 11 am to 3 pm.
Exhibits are also available for viewing during public-facing events or by appointment.
For additional information, or to learn about becoming involved as a volunteer docent, please call 410-879-4424 or email us at info@liriodendron.com
Please note that, due to the historic nature of our venue, the 2nd floor gallery space has limited access.
Exhibit hours
Wednesdays 1:00pm-5:00pm
Second Sundays 11:00 am – 3:00 pm
NOTE: There is limited access to the second-floor galleries.
Get Involved or Donate
Today!
Visit Us
502 W Gordon Street
Bel Air, MD 21014
Email Us
info@liriodendron.com